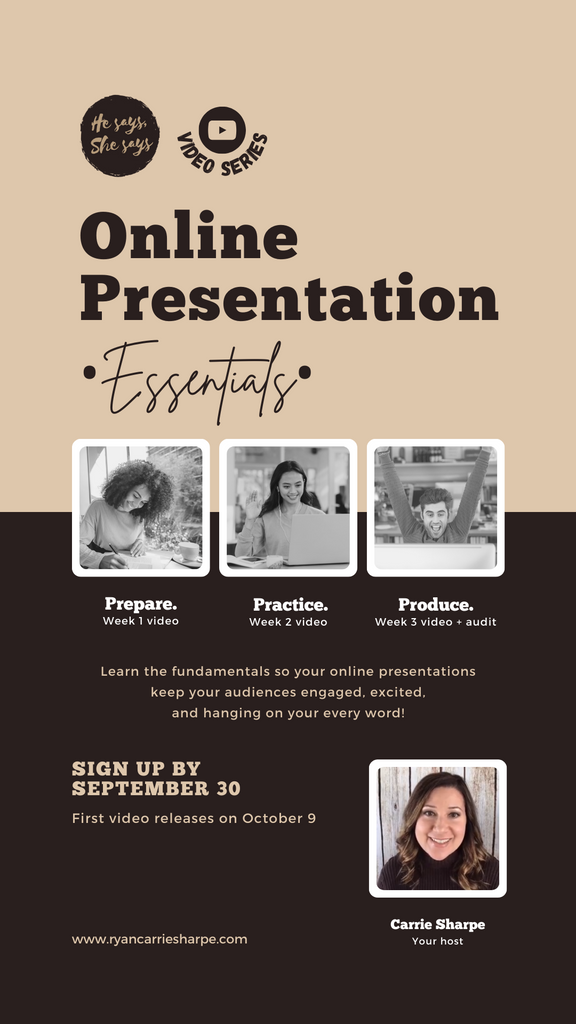 Online Presentation Essentials [video series]
$ 197.00
Online presentation skills are not optional. 
Friend, those are required skills now.
Online presenting is a reality for just about everyone. At some point you'll need to lead a meeting, train your team, perform a coaching session, or even host a happy hour... online. Presenting online is not the same as presenting in person. It requires different skills to be effective.
Your audience members will doze off, scroll social media, or watch cat TikToks during your presentation if you don't have the necessary skills to keep them engaged.
⬆️Don't let that happen to you.⬆️
Through this video series I cover everything you need to know to make your online presentations interactive, informative, and fun. Learn the fundamentals so your audience members are engaged, excited, and hanging on your every word!
What I'll deliver:
• 3 separate videos delivered conveniently to your email inbox, one each week for three weeks, to hone in on every essential component of wildly successful online presentations
• 1 (optional) feedback audit, so you can send me a short video of your online presentation and receive a recorded audit of feedback detailing what you're already doing well and areas to improve
• A special invitation to book an optional hour with me via Zoom at a reduced rate to receive one-on-one coaching and strategizing after you've completed the video series
Videos will be sent out beginning October 9.
Registration ends September 30, so don't wait to sign up!
Invest in yourself and your skills today-- you're worth it!
About your host:

Carrie Sharpe is a Communication Consultant, Speaker, and Co-Owner of He says, She says. She is also Co-Host of the Speaking with Ryan & Carrie Sharpe podcast. Carrie earned her degree in Political Science and Psychology from Lake Superior State University. With over twenty-five years of experience and training, Carrie coaches clients in communication and public speaking skills. Carrie is a Huffington Post Contributor and has been quoted in a variety of publications including Forbes, Business Insider, and Bustle. Recently she served as Communications Director for the successful campaign of a candidate for the Michigan House of Representatives. Carrie and her husband, Ryan, reside in northern Michigan and have five children.


What you need to know about this video series: Registration for this video series closes on September 30, or when the program reaches capacity (whichever comes first). Space is limited by availability of audits. For your audit, you can send up to 20 minutes of recorded video, and I'll send you a recorded audit of 10-30 minutes. Your audit video must be submitted before December 1 according to instructions included in week 3's email, and my audit will be sent to you within five business days thereafter. Please use a valid email address at checkout so I can communicate with you. You'll be sent emails on October 9, 16, and 23, 2023. Each will contain a digital training video and additional program details. Work through them at your convenience. Videos are not physical products. Please email me with questions at info@ryancarriesharpe.com. Registration is not transferable. Refunds are not available.