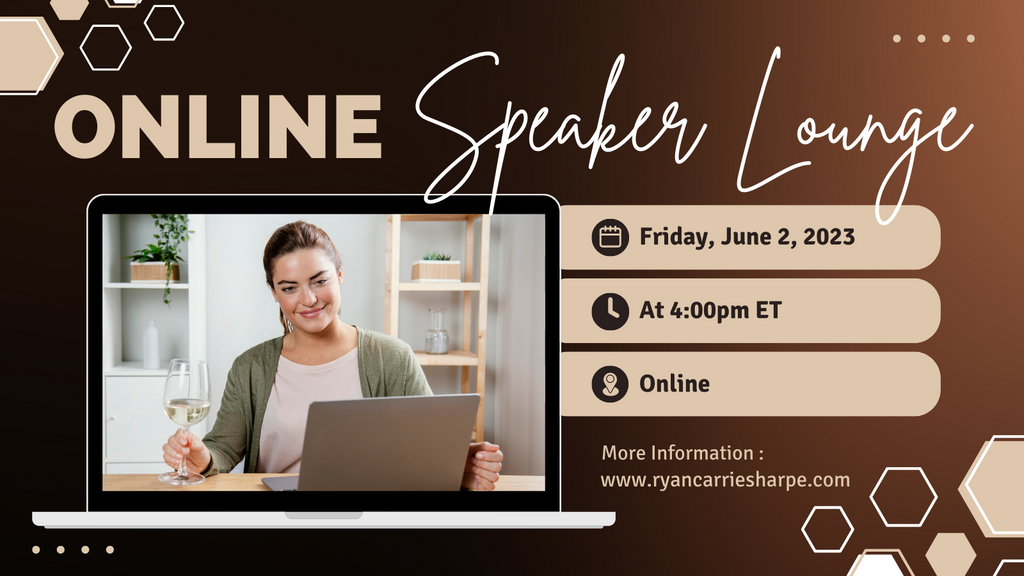 Online Speaker Lounge
$ 9.97
Come relax in the Speaker Lounge.
As a speaker, you always put your audience first. You teach. You encourage. You serve. You give.
You pour your heart out. 
That's what makes you the amazing speaker that you are.
That's also why you need the Speaker Lounge.
It's time to take an hour to relax and recharge, dear speaker. 
You've earned it.
Whether you've given one speech this year or eighty speeches, this online Speaker Lounge is for you.
Whether you speak in-person or you speak online, this Speaker Lounge is for you.
Whether you're a seasoned speaker or you consider yourself a newbie, this Speaker Lounge is for you.
Think of it as Happy Hour for presenters and speakers. Come hang out online with other speakers to share stories, encourage each other, let off steam, laugh, and renew your love of public speaking. All speakers are welcome. Grab a beverage, and give yourself the gift of fun in the Speaker Lounge!
The Online Speaker Lounge meets on Friday, June 2, 2023, at 4:00pm ET. 
Space is limited, so register now!
About your host:
Carrie Sharpe is a Communication Consultant, Speaker, and Co-Owner of He says, She says. She is also Co-Host of the Speaking with Ryan & Carrie Sharpe podcast. Carrie earned her degree in Political Science and Psychology from Lake Superior State University. With over twenty-five years of experience and training, Carrie coaches clients in communication and public speaking skills. Carrie is a Huffington Post Contributor and has been quoted in a variety of publications including Forbes, Business Insider, and Bustle. Recently she served as Communications Director for the successful campaign of a candidate for the Michigan House of Representatives. Carrie and her husband, Ryan, reside in northern Michigan and have five children.  
What you need to know about this online event: Registration closes approximately 48 hours prior to start time or when the event is full. Space is limited. This event will not be recorded. Please use a valid email address at checkout so we can communicate with you. You'll be sent an email on the day of the event with log-in instructions for the Speaker Lounge. Please email us with questions at info@ryancarriesharpe.com. Registration is not transferable. Refunds are not available.