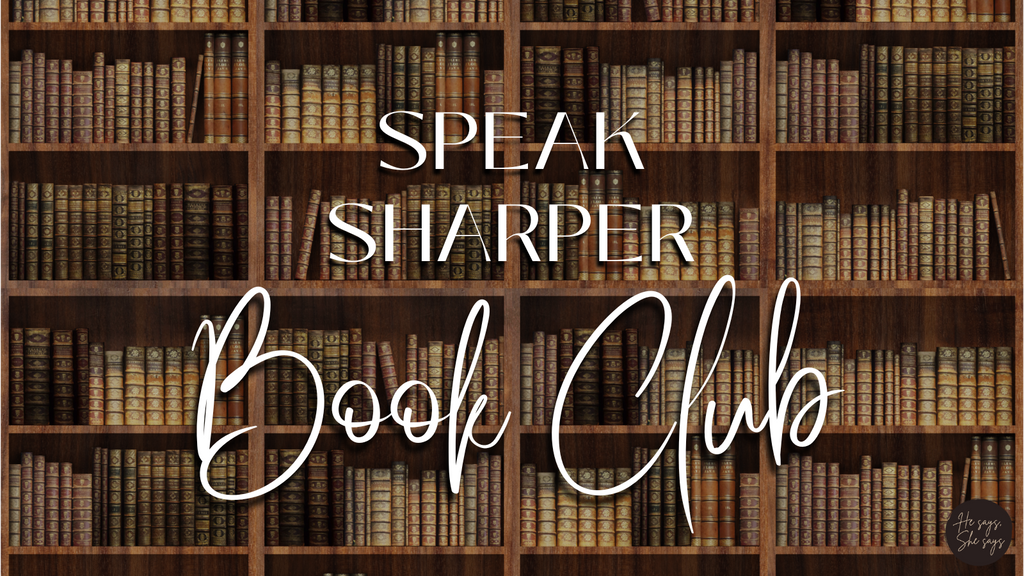 Speak Sharper Book Club
$ 37.00
Join me for a 3-month Book Club beginning September 1st! 
We're delving into Thomas Erikson's hot communication book, Surrounded By Idiots: The Four Types of Human Behavior and How to Effectively Communicate with Each in Business (and in Life). The book has sold over two million copies and is as fun as it is helpful.
I've read countless books about personality types and communication styles, and this one is a breath of fresh air as it provides real-life ways to implement what we're learning. It's not the same old information you've heard before. 
I'll host three Zoom calls, one each month, for rip-roaring conversations about the book. We'll chat, share ideas, learn from each other, laugh a lot, and improve our communication skills. 
The Speak Sharper Book Club is open to anyone who wants to improve communication skills in a casual and fun atmosphere. Join today, and share the Book Club with a friend!
About your host:
Carrie Sharpe is a Communication Consultant, Speaker, and Co-Owner of He says, She says. She is also Co-Host of the Speaking with Ryan & Carrie Sharpe podcast. Carrie earned her degree in Political Science and Psychology from Lake Superior State University. With over twenty-five years of experience and training, Carrie coaches clients in communication and public speaking skills. Carrie is a Huffington Post Contributor and has been quoted in a variety of publications including Forbes, Business Insider, and Bustle. Recently she served as Communications Director for the successful campaign of a candidate for the Michigan House of Representatives. Carrie and her husband, Ryan, reside in northern Michigan and have five children.  

The fine print: The book is not included in the Book Club price. You may obtain a copy of the book however you'd like... Amazon, borrow it from a library, or buy it at a local bookstore. The three Zoom calls will not be recorded and distributed because they're more fun and useful if everyone is present and participating. The Zoom calls will be held at noon ET on September 15, October 13, and November 17. That's lunch time on Fridays, so feel free to show up on the call with food, snacks, and beverages... we don't mind! Please use a valid email address at checkout so I can communicate with you. I'll send periodic emails suggesting which chapters to read before each Zoom call and the Zoom link you'll need to join the call. The first email will go out on September 1 and will contain more information about the book and more details about what to expect during our Zoom calls. If you have any questions at all please send them to info@ryancarriesharpe.com. Please note that anything said during a Zoom call stays on the Zoom call, and it goes without saying (but I'll say it anyway) that we all need to be respectful of each other. Now go join the Book Club-- I'm looking forward to learning from you!