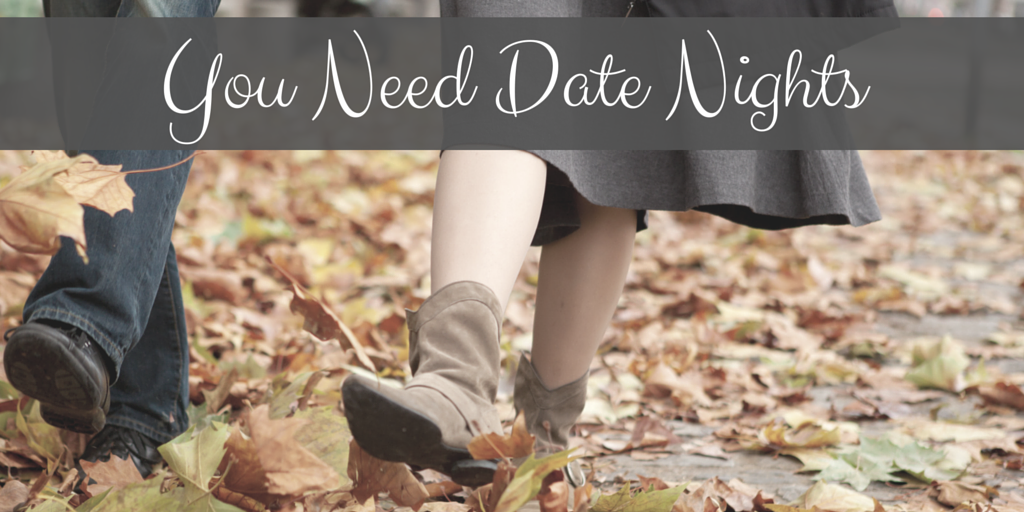 If you are married or are in a significant relationship with someone, you need date nights on a consistent basis. Every couple does. There is no possible way to grow your relationship or keep it strong if you aren't spending quality time together.
Lounging on the couch together while drooling on yourselves in front of the television is not quality time, by the way.
I know you're busy, exhausted, and have other things to do. I get it. I really do. We have five kids, I homeschool them, I work from home, and Ryan works a full-time sales job. We struggle to schedule date nights, too. At times money gets tight, and we don't want to spend it on date nights.
But we understand that date nights are vital to the health of our marriage, so we make sure they get scheduled as often as possible. Date nights don't have to break the bank, either. 
Date nights are necessary because they give us a chance to get out of the house and away from our usual routine. They get us away from interruptions like phones, work, and children. Date nights motivate us to de-stress and give us the opportunity to fall in love all over again. They force us to focus on each other and talk about issues, ideas, goals, and dreams. Date nights provide a great opportunity to communicate with each other.
As Communication Consultants, Ryan and I work with couples all around the world. We host Marriage Communication Masterminds that give us the opportunity to chat with couples about marriage communication topics like listening, speaking clearly, appreciating differences, and conflict resolution. We listen and learn more about each couple and help them strategize a gameplan to improve their communication and strengthen their relationship. Through our discussions with couples, the number one problem we find is that most couples are not intentionally spending enough quality time together. Everything else falls apart when there is not enough quality time.
It's impossible to communicate effectively if you're not spending quality time together with your spouse or significant other.
Luckily that's a problem that is easy to solve. Simply start scheduling date nights together on a regular basis.
We recommend weekly date nights, or biweekly dates at the very least. The dates can take place away from home, or they can happen in the home after the kids go to bed. It's best to get out of the house, though, because when we're home we're tempted to do dishes, laundry, deal with children, or get distracted by other household issues. Even taking a walk alone together after dinner can be a nice date night.
Date nights don't have to be formal or fancy. Our favorite ones are simple and cheap (or even free). For example, one of our favorite date nights consists of sitting on the porch alone after the kids go to bed. We light candles, drink coffee, and talk. It's peaceful and gives us the opportunity to spend time together. We share stories, reminisce, and chat about important topics. That kind of date night doesn't take much planning and doesn't cost much at all.
If money is an issue, inexpensive date nights like our porch dates are easy to plan. Anything that gets you out of the house or focusing on each other can be a date night. If paying a babysitter is an issue, many teenagers are willing to babysit for small fees. Some couples even swap babysitting with other couples so everyone gets a date night. Our porch date nights don't require a babysitter because we're at home; we just wait until the kids are in bed.
Whatever is preventing you from having regular date nights can be solved. Date nights are important enough to find solutions to your problems. Intentional quality time and communication with your spouse or significant other is necessary to grow a stronger relationship. If that relationship is important to you, you need date nights.