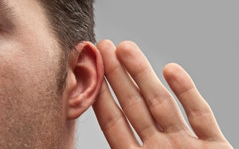 When we think about communication, talking is what generally comes to mind. Talking, however, is only one component of effective communication. Active listening is another, and it's just as important as talking. In a marriage, it's absolutely vital. This type of listening is not passive; rather, it takes purposeful effort.
Unfortunately, most of us have quite poor listening skills. We tend to monopolize conversations rather than putting the other person first. We usually listen to hear what we want to hear, or we listen in order to formulate a response. These behaviors are deadly sins in the context of good marriage communication. Listening makes the other person feel important and respected, while lack of listening makes the other person feel unimportant, trampled, and ignored.
If your goal is to improve your listening skills and really hear what your spouse has to say, here are four ways to do that:

1. Zone in on your spouse. First, remove distractions. Shut off the TV and phone, have the kids go in another room, and put away work. Next, make good eye contact by looking directly at your spouse. Don't look at the floor, squirm in your seat, or look elsewhere. Finally, don't interrupt. Allow your spouse all the time necessary to tell an entire story. Don't finish your spouse's sentences or correct him/her. Be patient until it is your turn to speak, and don't daydream about what you plan to say next. Simply listen.

2. Use appropriate body language. To begin, uncross your arms. Crossed arms automatically make it seem like you are annoyed or defensive. Rather, sit forward to show interest and keep your hands in your lap. Your goal is to make your spouse feel comfortable. To that end, it's also a good idea to mentally check your face. If you are scowling or frowning, relax your face so your spouse will feel at ease. Next, stop talking. It is impossible to listen while simultaneously speaking. We have two ears and one mouth, and they should be utilized in that proportion. Finally, occasionally nod in understanding. This nonverbal cue lets your spouse know that you understand what he/she is saying and that you are interested in hearing more.

3. Interact and respond. First, make sure your spouse is truly finished speaking before responding. The worst thing you can do is jump in the moment your spouse pauses to take a breath. A good rule of thumb is to wait several seconds to be sure he/she is done. Next, ask a few questions that come to mind about what your spouse was saying. Ask for clarification on anything you weren't sure about. Don't assume anything-- ask instead. Finally, show your spouse you were listening by rephrasing and summarizing some of what was said. One way to do that is to say, "It sounds like you are saying... xyz." Your spouse will either nod in agreement at that point or will clarify the parts you did not understand.

4. Handle it well. Sometimes the hardest part of communication is handling what we hear. We may not agree with something, we may feel offended, or we may get angry. It is important in marriage communication not to attack your spouse. Instead, try to see things from your spouse's point of view. Just because you disagree does not mean that you cannot try to understand things from your spouse's perspective. Rather than attacking or reacting emotionally, say something like, "I'll have to take some time to consider that." That shows your spouse that you have been listening and that you care enough to think more about what they have said. Even if you never agree on a particular issue, that does not mean that you have to fight or argue about it. Rarely do two people agree on everything, even when they love each other. This can be a good thing or a bad thing, depending on how you choose to handle it. Handling it well will ensure that your spouse feels safe enough to share with you in the future. If you attack every time you disagree, your spouse may eventually stop sharing.

These four steps to better listening skills are a good start toward making your spouse feel loved and heard. Listening shows you care. Practice what you've learned here, and you'll be well on your way toward better communication.