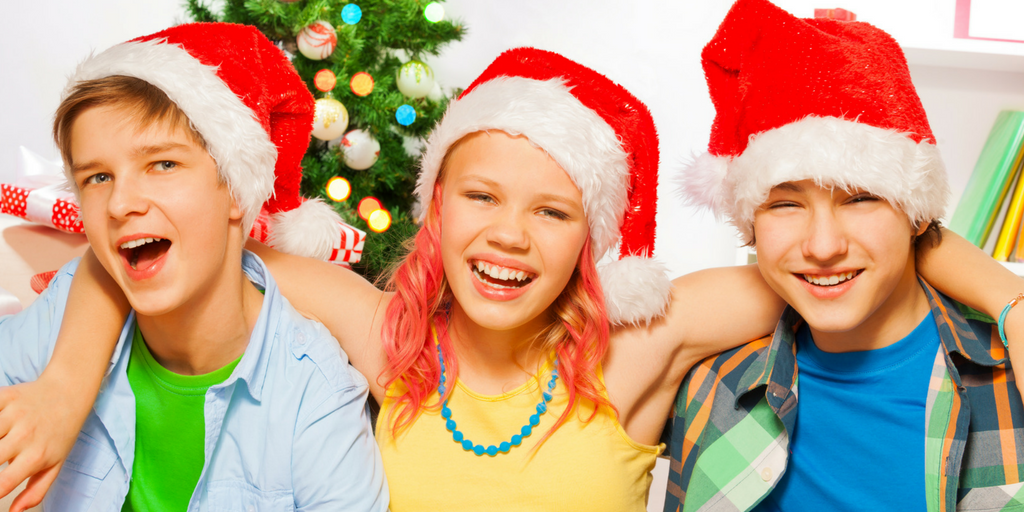 I often wish my kids would behave more like adults, especially in public or at formal events. Let's face it: I want perfection. I really want them to display good table manners, say "please" and "thank you," make small talk with good eye contact, and refrain from doing anything that might embarrass me. I wish for the same during the holidays. There's nothing like a family dinner or holiday party to test even the most well-behaved child's behavior. I've learned over the years, though, that perfection is totally unrealistic and actually even overrated.
Parents may feel out of control during the holidays, but we aren't entirely powerless. Here are a few tips for surviving the holidays with kids:
1. Get enough sleep. Everyone gets cranky when tired, so be sure your children get enough sleep during the holiday season and especially before a big holiday event. Same for you. Enough said.
2. Be reasonable. Young children cannot be expected to behave perfectly for 8 hours straight. They also cannot keep a formal gown spotless for an entire day. They cannot sit perfectly still or put up with their annoying cousin for hours on end. Be sure to think through the reality of the situation and don't ask too much of your kids.
3. Prepare your children. Bring toys or activities to keep them busy during holiday gatherings. Make sure you have sufficient snacks. Discuss the plan with them so they know what to expect. Talk about the manners you want them to display. If there will be a guest present who is troublesome for your children, talk about how to handle it ahead of time. Give your kids an escape route if they sense trouble starting. Let them know they can come to you if there is a problem. It's a good idea to inform them how long they will be at the event, what foods will be available, and what your expectations are. Talk about it all so your children are well prepared.
4. Make corrections in private. You'll embarrass your children if you correct them in public, so if a correction is necessary do it in private. Your child will appreciate the respect, and a break from the activity is a good idea anyway. If a situation at a party gets completely out of hand, simply leave. Sometimes it's better to just cut your losses. You can discuss the behavior after everyone has calmed down.
5. Get over it. Nothing is perfect, including children and holidays. If an event ends up less than enjoyable, don't dwell on it. Simply learn from it and move on. You may be disappointed or embarrassed, but the important thing is to remind your children that you love them. Your family is so much more important than a single event or holiday.
The holiday season is full of fun and enjoyment, but it can be overwhelming and downright stressful at times for both parents and children. Plan well, and follow our tips, and your family will make it through this holiday season unscathed.