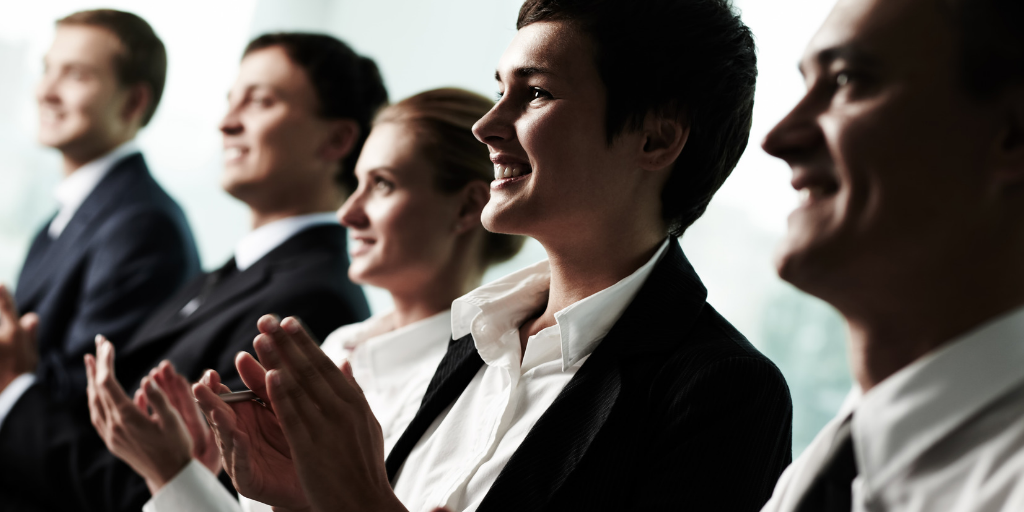 It's not hard to give a speech. People do it every day. But if your goal is to connect with your audience and deliver a memorable presentation, you'll need to put in some preparation and practice. Powerful speeches rarely "just happen," so follow these tips to ensure your speech makes an impact.
1. Know your audience.
Knowing who you're talking to is key. Know their basic demographics, but also know their skill level regarding your topic, their interest level in your topic (Do they want to be here, or do they have to?), and what they need to hear from you to move forward. Give them what they need.
2. Write down your overall takeaway, and stick to it.
Ask yourself: If this audience could only remember one thing from my speech, what would I want it to be? Write your answer down as one complete sentence. That's your takeaway. Write it at the top of your paper as you begin developing your speech. As you add things to your speech ask yourself if each thing supports that takeaway. If it does, keep it in your speech. If it doesn't, save it for a different speech.
3. Prepare notes (not a script).
Memorizing a speech is not necessary and may even sound robotic. It's better to sound conversational yet prepared. Create an outline with bulletpoints. As you talk through it, you'll be able to condense your notes further and further. Ultimately you want to become familiar enough with your material that your notes are minimal. Just a skeletal structure is all you need. The only parts of your speech that should be written out verbatim in your notes are quotes, statistics, and anything else that must be shared exactly as written.
4. Share stories that illustrate your points.
Stories are memorable and relatable, so you'll want to include them in your speech. Make sure you choose stories that are relevant to your topic and audience, and then practice telling them until you sound natural. Don't underestimate the power of stories... they are often remembered long after the speech when statistics are forgotten.
5. Have a conversation with your audience.
Move around the stage naturally. Use expressive (yet appropriate) body language. You want to engage the audience and make them feel like they're part of the conversation rather than passive observers, so talk with them rather than at them. While we're on this subject let me just add that it's virtually impossible to have a conversation with your audience if you're reading slides to them. Don't let slides take over your speech and wreck it. For more information about slides, click here.
6. Practice. Practice again. Practice more. Repeat.
Creating your notes is not full preparation for giving a powerful speech. You must practice. That means you must say your speech out loud so many times that it feels like second nature. When you get on stage for the big day, you should feel like giving your speech is "old hat." When you've practiced enough, your speech will feel like a familiar friend. Your audience deserves your best, and that means you must practice, practice again, practice again, and practice again. Get feedback, tweak things, and practice more. 
And then please practice again.
And again.
Once more after that wouldn't hurt, either.
To deliver a powerful speech you must know your audience, prepare properly, and practice until your speech feels so familiar that you could deliver it in your sleep. Your audience will appreciate your effort, and you'll make an impact for years to come.
Need to improve your speech or stage presence? Click here to schedule a call with Carrie to learn more about how she can help you achieve your goals!