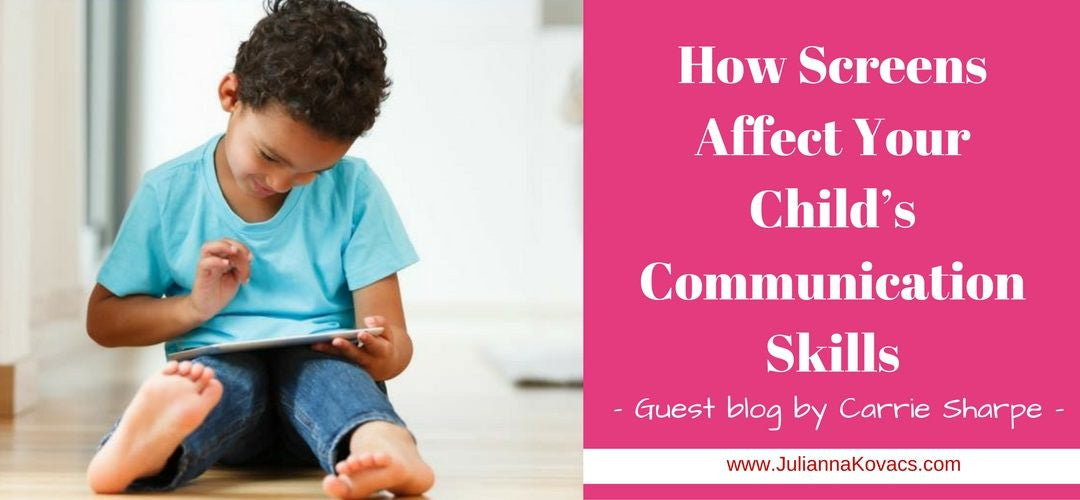 We are surrounded by televisions, phones, tablets, laptops, and gaming devices. We can't even go to the grocery store without someone on a television at the end of each aisle screaming at us about the latest product we should buy. 
 
Even our work necessitates ever-increasing time behind screens. I'm a Communication Consultant and Speaker, and I coach my clients via Skype and FaceTime. I spend time texting, working on a computer, talking on technology affecting communication skills phone, checking emails, and engaging on social media. I love the mobility that screens provide in my career. I can literally work from anywhere because of screens.
But how do screens affect our face-to-face communication skills?
More importantly, how technology affecting communication skills of our children, whose social and communication skills are not yet fully developed?
In some ways, devices with screens benefit our kids. Kids are more engaged than ever in politics, world news, educational activities, and daily online discussions with friends and family. But there are limits to screen-based communication.
Electronic screen-based communication cannot teach face-to-face social skills. Those skills can only be learned in-person, and those skills are vital to our children's future success in the adult world. There is no electronic substitute for real-life face-to-face interactions.
Social skills like table manners cannot be learned behind a screen.

Table manners are largely overlooked today as we often eat on the run, in our cars, or in front of the television. Unfortunately, kids who do not learn table manners are at a disadvantage as adults.
Business lunches, professional dinners, and romantic dates require a proficient display of table manners. As parents, it's our job to make sure our kids have practiced these skills and have a thorough understanding of them.
We need to teach them to shut off the TV during meals, keep their elbows off the table, chew with their mouths closed, not to talk with food in their mouths, how to keep the conversation rolling, proper ways to pass food around the table, and to say "please" and "thank-you" when food is passed. It sounds simple, but many children have not been taught these important lessons.
Further, kids are missing out on opportunities to learn basic interaction skills, like meeting someone new, when they spend too much time behind screens. Kids need to know how to properly introduce themselves to someone new, use direct eye contact, shake hands, speak clearly and audibly, and make small talk.
These skills are necessary in adult life, and we must be purposeful to teach these skills, model them, and provide situations for our kids to practice them.
Ironically, another social skill lacking today is talking on the phone properly.

Modern kids are so accustomed to texting that they are missing out on verbal phone skills. As parents, we must teach our children how to talk on the phone. We must teach them to answer a call properly, take a detailed message, be polite, and how to end the call.
They must also be taught how to make a call. Begin a call by saying, "Hello. My name is ________. May I please speak to _________?" Start a phone conversation by stating their own name and asking politely to speak to the other person. Too many kids and teens these days have absolutely no idea how to politely make a phone call.
Major issues like physical safety, finances, and education are in the forefront of parents' minds today, while social skills have taken a backseat. Technology have exacerbated the situation by limiting natural social interactions. While screens are useful tools for careers and learning, they tend to stunt real social growth. Social skills and interpersonal communication suffers as a result.
Parents, take the lead.
Limit your children's screen time to a reasonable amount, monitor their social media interactions, and create opportunities for them to learn face-to-face social skills. Set a good example in your own screen usage, and model how to communicate effectively with others. Take the time to teach your children table manners, phone skills, and conversation skills. Encourage them out of their comfort zones. You can do it, and their future depends on it.